Our History
Martin Bros. Contracting, Inc. is a family-owned and operated business that specializes in building luxury custom homes. Founded in 1965 by brothers Nelson and Virgil Martin, the company has a long-standing reputation for building the finest custom homes in the area, thanks to the brothers' belief in using the highest quality materials and exceeding industry standard building practices. Today, the company is run by Nelson's son Jeff, who began working at the company at the age of 14, gaining experience and eventually purchasing the company in 1999. Jeff's children have also recently purchased a share of the business, marking the third generation of ownership.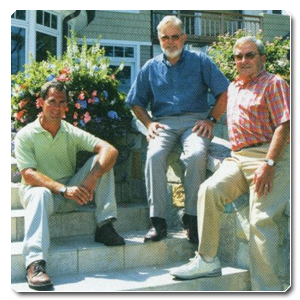 The company has a strong commitment to excellence and craftsmanship and is always on the forefront of using innovative building techniques and equipping their homes with the latest technology. This dedication to quality and attention to detail results in each home being a true masterpiece. They are proud to have many satisfied customers who have become part of their extended family of happy homeowners.
Jeff Martin started his journey with the company in the summer of 1976, where he began by sweeping and sanding floors, throwing a hammer, and learning the ropes. After graduating high school in 1980, he worked for Martin Brothers for three years and then decided to gain experience working for another employer. He joined a local RV company for 2-1/2 years and returned to Martin Brothers in early 1986. From there, he started acquiring shares in the company by working overtime on jobsites. By the time he purchased the company in 1999, he had earned 10 percent ownership in Martin Brothers. Since then, Jeff has handled the day-to-day operation of the business, which includes managing as many as 17 people in the field and office personnel.
Martin Bros. Contracting, Inc. is dedicated to providing the best possible service to its customers. They understand that building a custom home is a big investment, and they are committed to making sure that the process is as smooth and stress-free as possible. They work closely with their customers to understand their needs and preferences, and they use that information to build the perfect home. They are proud of the many satisfied customers who have become part of their extended family of happy homeowners. They welcome you to be a part of this family by choosing to build your dream home with them.