Testimonials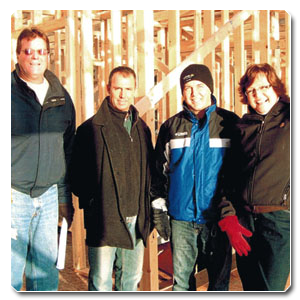 At Martin Bros. Contracting, Inc. it's not just about building a home, it's about building a relationship. The relationship with our client is the most important element in our success. We work very hard at understanding our client's needs and lifestyles so that the end result - your home, is something we can both be proud of. Here are just a few of the comments we have received from our clients.

"They took our daydreams and created a home that exceeded our expectations in every way."
D. Beer
---
The finest company and craftsmen I have ever worked with!
J. Crawford
---
They were just so wonderful. They're organized, they're honest, they're hard workers and they're diligent. They take care of any mistakes right away.
T. Rieth
---
Jeff is so good at what he does and he does what he says he's going do. He does his job so well that people know hat he says is what he means and is what will happen.
B. Carr
---
We first used Martin Bros for a small repair job, and were so pleased with their quality work- that they were the first people we talked to when we first "talked" about building our home.

We really appreciated the concept of their in-house design service, we felt like the team knew our style, and our priorities in a home, before any shovels went in the ground. By working with a design team in advance, we also felt less overwhelmed during the build project itself, as they walked us through a lot of preliminary choices and decisions in advance.

Our project was completed in 7 months (from breaking ground to move in). The fact that they honored the original projected move-in date was very meaningful to us.

Every detail of our project was handled with professionalism, and the quality of craftsmanship was above what we expected.

Honest, Dependable, and our first choice for any future projects.
D. Miller
---
Martin Brothers exceeded our expectations from day 1. We are thrilled with the outcome of our home expansion! The entire team at Martin Brothers are fantastic, and we were sad to see the project come to an end. We look forward to using them again in the future, and highly recommend them to any homeowner seeking high-quality and top-notch professionalism.
N. Holland
---
We hired the Martin Brothers to remodel our kitchen and great room area. We expected high quality work and we received it. In addition they patiently guided us through the entire process, and they always made sure they understood our questions and gave us great advice. Great communication. We would use them again!!!
J. LaDue
---
Our experience with Martin Brothers was first class from start to finish. Jeff Martin, Jay Kinney, and the whole team, provided great direction, feedback and project management during our kitchen remodel. Communication was always timely and project timelines were met. When unforeseen matters or questions arose, Martin Brothers was quick to be on the project site, consider multiple solutions and make a recommendation. Martin Brothers has excellent relationships with many contractors, but they were also willing to let us use our preferred contractors when we desired. Budget matters were always addressed professionally and billing was timely. We can't say enough positive things about this company and would highly recommend them. We are thoroughly enjoying our new kitchen and look forward to working with Martin Brothers again in the future.
K. James
---
We placed our confidence in Martin Brothers for a major renovation/remodel project. They worked beautifully with our architect making adjustments as needed during the work. This has been completed for a year, and all is well.
E. Lindburg
---
We did a major renovation of our master bathroom as well as updates throughout our 6,500 sq. foot home built in 1964. We started by meeting with their architect on staff approximately 9 months before our project began. We met numerous times to come up with the perfect plan. Our bath renovation included custom cabinets, a large soak tub surrounded by marble and beautiful custom framed wall mirrors, separate his/hers marble vanity areas, a walk in marble shower with a custom glass door and windows, and a heated marble floor throughout the bathroom. We transformed an old dressing room into a walk in closet with custom built in drawers and shelving to coordinate with the bathroom. We also transformed an old shower into a linen closet with custom built painted shelves. We installed new LED lighting in the master bath, ceiling exhaust fans and heaters. We also installed custom solid walnut flooring in the master bedroom and office and a beautiful custom solid walnut herringbone pattern in our hall and bar areas. In addition we installed a marble floor in a front hall powder room and renovated a 1960's upstairs guest bath with new flooring, paint and lighting saving the existing vanity and tub. It turned out perfect! We installed new LED lighting in 5 other bathrooms and in every closet in the house as well. Their painters perfectly matched the paint we had throughout the house to make everything fresh again without us having to change some of our wallpaper. Martin Bros. uses the best painters, electricians, and plumbers. Everyone was courteous, polite and trustworthy. We appreciated that we were given a detailed time line at the start of the project that was realistic and they worked hard to stay on schedule. We were assigned a foreman that we were in contact with every day as well as a project manager. It was a huge project that lasted five months, but you can't build quality over-night. It was worth the wait!
H. Frankie
---
We selected Martin Brothers after talking with 3 contractors and their references. The project was a total demo and remodel of a small 1800 sq ft condo unit. The unit had 3 bedrooms, 2 baths, kitchen, small laundry room and living room. After the remodel: 4 bedrooms, 3 1/2 baths, laundry, kitchen with modern island and larger living room. We also expanded and resurfaced the outdoor porch. Our unit is located on the end which allowed us to add 2 new windows as well. Martin Brothers started the demolition the last week of December, 2013. Being in a condo community the project had to be completed by May 24th - Memorial weekend. Our project manager did an outstanding job keeping the project moving and on schedule and we moved back into the unit on May 23rd. The workmanship and attention to detail was excellent as well. I wouldn't hesitate to recommend Martin Brothers. Great team to work with.
K. Hill
---
In 2014 we experienced water damage to our vacation home. Nearly 80% of the home was damaged and required repair/remodel. Martin Brothers was recommended as a top quality contractor – and they certainly lived up to their reputation. We received seamless service, thorough communication (living 3 hours away, that was critical), excellent advice, and superior quality. Our project finished on time and "to the penny" of their estimate. Having built 2 homes, I know this can be a rarity among contractors/builders. They have my highest praise and recommendation.
S. Laviolette
---
I am extremely pleased with the work that Martin Brothers provided. We did a complete remodel on the exterior of our house which included the roof, stucco, doors, sidewalks, the addition of a new wrap around porch and pergola, lighting and more. Going into the project there were some things that were very important to us including, accurate time projections, quality of work, good communication and finding a company with integrity. Martin Brothers exceeded our expectations in all of these and they will be at the top of our list for future projects.
M. Bailey
---
Thank you for the addition to our home, as well as, Tom's garage. We are amazed how beautiful it all turned out.
T. Bubacz
---
They were always professional. We can't thank you enough for the wonderful job they did. We love it!
D. Brendle
---
Wanted to write to express my gratitude for a very positive remodeling experience! I cannot imagine ever using anyone else.
K. Pruitt
---
Thank you for participating in this project. The tools were a necessity & we appreciated your generosity.
Project Playground 2009
---
We have worked along side Martin Bros for several years and would consider them to be one of the areas most premiere builders. Outstanding craftsmanship, superior attention to detail and top-notch service is what you can expect from Jeff and his entire staff.
Quality Window & Door
---
I work with Martin Brothers Contracting as an Interior Designer. I can not say enough good things about this company. They are professional in every way. The office help almost always knows what is going on with every project, and if they don't have an answer for you they will make every effort to get one. Their work is quality in every way.

Every job I have been on with them has been a pleasure - they help make my job easy. The clients all say they would definitely hire them again.
SP Interiors
Additional custom home references may be obtained by qualified prospects upon request.