Our Difference
Unparalleled Service & Construction Supervision.
From consulting on design services prior to construction, to walking through all the systems at move-in, Martin Brothers is there for our homeowners. We recognize the investment our clients make in their homes; therefore, we provide unparalleled service throughout the custom home building process.
Martin Brothers' management professionals, in conjunction with the Project Supervisor, coordinate construction schedules, finalize material selections, process orders, track material deliveries, coordinate subcontractors, and communicate with the client throughout the project. The on-site project foreman is responsible for the day to management of the crew of Martin Brother's craftsmen and coordinating efforts of the various subcontractors to make sure items are installed in the proper location, in the proper sequence and in the proper manner. While the size of the Martin Brothers' crew fluctuates throughout the project based on the phase of construction, the project foreman remains on-site every day to ensure the home meets Martin Brothers' quality standards.
We Employee Highly Skilled & Knowledgeable Craftsmen.
Our carpenters are loyal, knowledgeable, and qualified. Most have been with our company for many years...as long as 15 and 30+ years! We train our carpenters in all aspects of the project from footings through trim, giving them comprehensive knowledge and skills for all phases of the construction process. Our carpenters take great pride in achieving excellence throughout each stage of construction.
We are Here to Relieve Your Stress.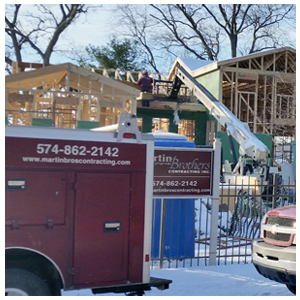 Martin Brothers understands that the process of building a custom luxury home, is sometimes a long and stressful venture. Our project management team is here to anticipate and alleviate the confusion throughout a project. We conduct meetings with the client throughout the project to make sure we are on schedule and getting decisions made in a timely manner. We work closely with the Client, Architect and Designer from start to finish, to make sure the finished product, their home, meets and exceeds expectations.
Trusted Relationships with Quality Subcontractors.
We have trusted relationships with quality subcontractors. Our subcontractors know what we expect of them and work closely with the Project Supervisor to make sure systems and materials are coordinated with us and the various other trades. Our clients have the peace of mind that quality products will be installed by knowledgeable professionals. If service or warranty work is needed in the future, the same subcontractors, most likely, will return to handle service.
Quality Materials Mean a Better Home.
Martin Brothers encourages using the best materials available throughout the project. Many construction materials on the market today are inferior for building a high-quality home. There are significant quality differences in framing lumber, windows, exterior finishes, doors, trim, cabinetry, and interior finishes. Many builders encourage using lower quality products at the start, and then covering them with high-end finishes, in an effort to save money. Martin Brothers recognizes that the small premium paid for using solid, straight, and time-tested materials turns into a huge savings in long term maintenance and performance of a home.
Why There are No Floorplans on our Website.
Martin Bros. Contracting, Inc. has been providing our clients with a true custom home building experience since 1965. As a true custom home builder each home we build is unique. By that, we mean that each home we build is designed to meet the needs of the client, and to fit the site on which it is built. While some builders claim to be custom home builders, they are in fact production builders customizing stock floor plans.

We have never built two homes exactly the same...the homeowner chooses the amenities and look of the home and an Architect designs the home accordingly. The client retains the right to their floorplan, and as such, floor plans are not posted on our site and are not available for resale. We do, however, provide images of homes we have built in the Photo Gallery for clients considering Martin Brothers for their project.

Call us today at 574-862-2142 to discuss building your luxury, custom home.