Our History
Tucked away in the heart of the country and east of the tiny town of Wakarusa, Indiana, you'll find Martin Bros. Contracting, Inc. builder of quality luxury custom homes. Founded on February 15, 1965 by brothers Nelson and Virgil Martin; the brothers had been working for another builder that specialized in building high-end custom homes, when they decided to venture out on their own. As their business grew, the home sizes varied from small to quite large, and Martin Brothers' gained the reputation of building the finest custom homes in Michiana. The brothers' firmly believed that using the highest quality materials available and exceeding industry standard building practices would provide their customer's with the best home possible. Carrying on those same practices today is Nelson's son Jeff.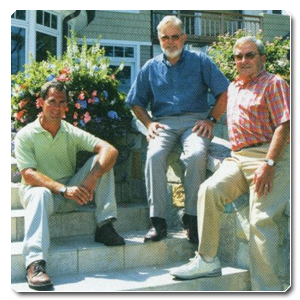 Jeff Ma
​rtin started out in the summer of 1976 (at the age of 14) sweeping and sanding floors, throwing a hammer and learning the ropes at Martin Brothers. After graduating high school in 1980, Jeff worked for Martin Brothers for three years and left to work at a local RV company for 2-1/2 years. He returned to Martin Brothers in early 1986 and started acquiring shares in the company by working overtime on jobsites. By the time he purchased the company in 1999, he had earned 10 percent ownership in Martin Brothers. As sole-operator he handles the day-to-day operation of the business, which includes managing as many as 13 people in the field. He resides outside Wakarusa with his wife, of over 30 years, Amy. They have three children and five grandchildren. Jeff is a Harley-Davidson enthusiast and is active in his church activities. He is an active member of the Builders Association of Elkhart County having served in many offices, including President and Director. Martin Brothers employs Jeff's sons Kyle and Trevor and son-in-law Jay. The company was a three-generation company until 2012 when Nelson officially retired at the age of eighty. Founder Virgil, Martin passed away in August, 2011.
Since our inception, Martin Brothers Contracting, Inc. has created superior, hand-crafted custom built homes and continues to reach new heights in our craft. We are on the forefront of using innovative building techniques and equipping our luxury homes with the latest technology, making each Martin Brothers built home a true masterpiece. We hope that you choose to be a part of the extended family of happy Martin Brothers' homeowners.