Our Site
Martin Brothers Contracting, Inc. has been providing their clients with a true custom home building experience since 1965. As a true custom home builder each home we build is unique. By that, we mean that each home we build is designed to meet the needs of the client(s), and to fit the site on which it is built. While some builders claim to be custom home builders, they are in fact production builders customizing stock floor plans.

We have never built two homes exactly the same...the homeowner chooses the amenities and look of the home and the home is designed accordingly. The homeowner, retains the right to their floorplan and as such, floor plans are not posted on our site and are not available for resale. We do, however, provide images of homes we have built in the Photo Gallery for clients considering Martin Brothers for their next project.
With so many types of home building companies out there, it's a little tough to figure out who does what and who builds what. Here's a quick run-down on how to tell the difference between custom and production home building companies.
Custom home builders generally: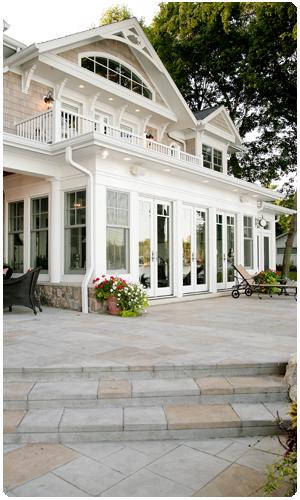 Build on land you own. Some custom builders also build on land they own.
Build one-of-a-kind houses. A custom home is a site-specific home built from a unique set of plans for a specific client. Some custom builders may offer design/build services.
Build single-family homes.
Are generally small-volume builders (those that build 25 or fewer homes a year).
Tend to build high-end homes.
Production home builders generally:
Build on land they own.
Tend to use stock plans, but usually offer a variety of plan choices and options.
Build all types of housing — single-family, condos, town houses, and rental properties.
Are large-volume builders (those that build more than 25 homes a year).
Generally build for all price points — entry level, move up, luxury, etc.